Volunteers Needed for GCS/United Way 2nd Grade Reading Camps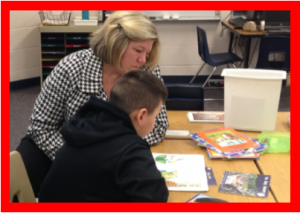 Goshen Community Schools will again be offering United Way Reading Camps to 20 children at each of the following schools: Chandler, Parkside, Model, Waterford, and West Goshen. Our Reading Camps connect 2nd grade students with an attentive, adult volunteer, to practice their reading skills.
Reading Camps are held every Tuesday and Thursday for eight weeks (January 30 -March 22, 2018) after school from 3:00-4:00 p.m. Ideal volunteer candidates are people of all ages, who have a passion for helping children and a love of reading. Volunteers may commit to once a week, twice a week, or substitute on predetermined dates. We are looking for people who would be willing to spend one to two hours per week reading with a child. All volunteers will be given a limited background check and will participate in a training session to be held the last week of January. For more information, or if you are interested in being a volunteer, please contact Michelle Kercher (Coordinator of Volunteers) at mkercher@goshenschools.org or (574)-535-3086.